Baked fresh when you order!


Available in Dallas and in their starting place, Austin.
The cookies are baked when you order, so they arrive warm and delicious, right out of the oven! Delivered with the option of hot coffee or what goes better with cookies than ice cold milk!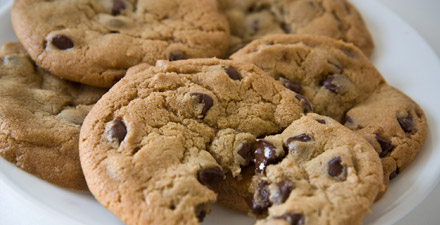 Call to place an order or submit one online.
From chocolate chip to oatmeal raisin their cookies are amazing but their brownies are even better. Have the decadent brownies delivered with a scoop or a pint of ice cream and your sure to surprise even the toughest critics.
Turn around time is great especially for when you forget a special occasio
n or your boss' birthday. Order at 9 AM and they can deliver within an hour or two and the recipient is none the wiser and assumes you remembered all along!


These cupcakes started out as a craze in Hollywood and are slowly making their presence be known across the country. These are not your average cupcakes, at $3.25 a piece or $36 for a dozen, they are mini masterpieces for your sweet tooth. Baked fresh, in small batches throughout the day, their cupcakes are handcrafted from the finest and all natural ingredients from bittersweet Belgain chocolate, pure Madagascar Bourbon vanilla, fresh fruits and veggies (yes veggies) topped with authentic fresh French sugar decorations.
Each day holds a new variety of flavors and designs, their cupcakes are never the same each day and they have actually created a calendar detailing their future inventory. Flavors and fillings vary throughout the year as well in accordance with seasons and availability of fruits.
They can be ordered in person (get ready for a standing room only wait) or online and delivered. Available as only the lonely or in dozens, trays, towers and party favors. From summer cherry to chai latte these cupcakes are not the little cakes from your childhood.