Gosh this weekend was so hectic and I'm sitting here back at work and can barely even think about what we're having for dinner. This week is definitely going to be pulled together from what we've got in the pantry 'cause I'm not going to the store yet. Maybe I'll go next week. So lets see what I can scrounge up....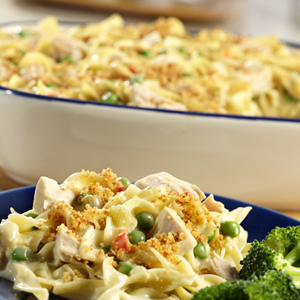 Monday
Dinner:
Traditional Tuna Casserole
(picture is courtesy of the recipe's original creator Campbell's soups)








Tuesday
Dinner:
Carolina Pulled Pork with Lexington Re
d Sauce



I'm trying a new pulled pork recipe, hoping that it can pull double duty for me this week. And as usual I'll be adapting it to cook in my crockpot other wise --
You'll need to start this recipe a day ahead to allow ample time for the wood chunks to soak and the flavors of the dry rub to penetrate the meat. Slow, low-heat cooking is key to tender pork that shreds easily. While the pork is still warm, shred it into uneven shards, mixing together some of the crisp, dark outer meat with the moister interior meat. Combine the classic Piedmont sauce--a thin, vinegar-based mixture--with the meat for a tangy kick, or mix it with shredded cabbage for Lexington coleslaw.

Recipe and photos courtesy of CookingLight

Wednesday
- It's state fair time in
Texas
and we're going to see old Big Tex today. Hubby and lil monster are gonna meet me downtown at noon and we're gonna gorge ourselves on those famous corn dogs, chicken fried bacon and fried banana splits! Needless to say we'll not be eating anything for dinner after our overload.
Thursday
Dinner:
Pulled-Pork Fajitas
I'm planning on pulling half of my meat that I cooked on Tuesday out before I add the sauce to it and then using it in this recipe. That way my pork will do double duty and I've got minimal cooking time on Thursday. 'Cause it's tv night and I can't miss my favorite shows!
Photo and recipe courtesy of
RealSimple

Friday
Dinner: It's pizza night so either we'll order one or I'll grab a frozen one at the store on the way home.
Saturday -

we're heading out to a local farm for their fall festival so lunch and dinner will prolly be eating out.
Breakfast: Oatmeal and toast
Lunch: TBD
Dinner:TBD
Sunday
Breakfast: Big Country Breakfast (biscuits & gravy, fried eggs and chicken fried steak)
Lunch: Sandwiches or leftovers
Dinner: Chicken Parmesan
Semi homemade chicken parmesan, a few steps more than my super fast version (store bought breaded chicken breasts) but oh so much yummier. I've still go leftover marinara sauce so this will be a great pantry meal.


Since this week is from my pantry there's no shopping list. If you don't have pork tenderloin or boneless skinless chicken breasts you might want to pick some up. Otherwise its all your basic ingredients like ckn stock, diced tomatoes, usual spices, cider vinegar, parmesan cheese. Really shouldn't have to buy anything this week.